AAOSH is excited to announce our first HYBRID event! This is a day-long event with both in-person and virtual ticketing options, offering over 6 CE/CME credits in both formats!
Midwest Regional hybrid event:

Buckeye Dental Medical Connection
in Columbus, Ohio & LIVE streaming
Nationwide Hotel & Conference Center | January 19th | HyBRID
The Midwest Regional: Buckeye Dental Medical Connection hybrid event offers an exhilarating blend of in-person and virtual experiences, making it an outstanding opportunity for professionals to connect and stay updated on the latest in oral systemic health. Participants can anticipate a wealth of valuable insights from speakers, whether they choose to join physically or virtually. Moreover, they can explore cutting-edge products and technologies, all within the vibrant, dynamic atmosphere of this hybrid event. With a seamless mix of in-person and virtual offerings, this event ensures a memorable experience for all attendees!
Don't miss your opportunity to join us!

Registration Includes 6 CE/CME credits!
In-Person Pricing Levels (Lunch Included):
Dentist/Physician (Member) $199

Dentist/Physician (Non-Member) $280

Other Professional (Member) $99

Other Professional (Non-Member) $150
Virtual Pricing Levels:
Dentist/Physician (Member) $149

Dentist/Physician (Non-Member) $230

Other Professional (Member) $49

Other Professional (Non-Member) $99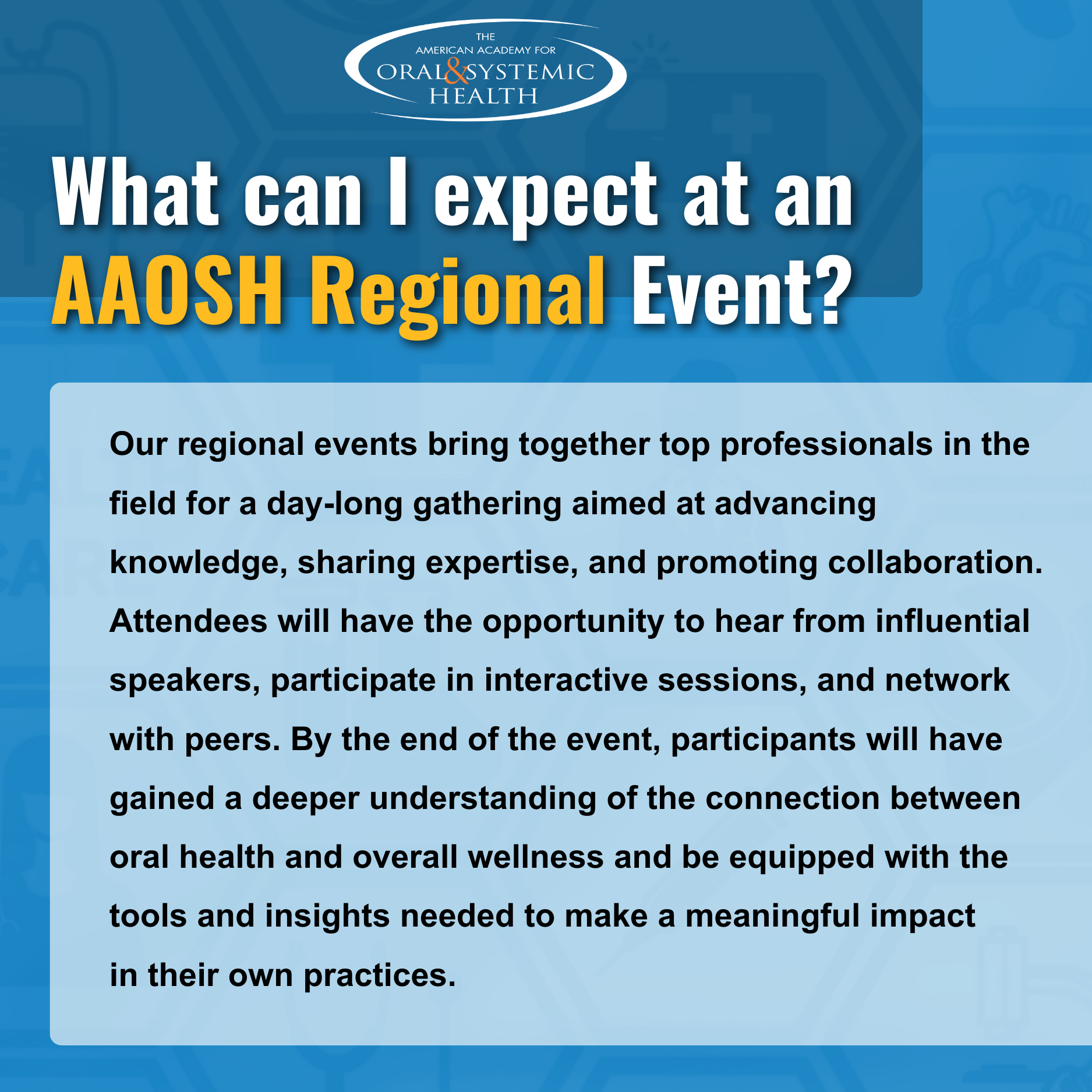 Share Your Knowledge and Research!
AAOSH would like to encourage practitioners, academics, and research professionals to submit abstracts for presentation at our upcoming Midwest Regional hybrid event. Using the form link, kindly furnish a concise description outlining your presentation. This description should encompass at least two learning objectives and two practical applications that attendees, predominantly practitioners, can expect to acquire through participation in your seminar.
ENTER SUBMISSION: October 27, 2023
Bio:
Tanya Dunlap, PhD is a Vice President at Perio Protect, where she has worked since 2005. For several years she served as the research liaison for the company, working with researchers and investigators who were testing Perio Tray® therapy in controlled clinical trials and microbiology studies. Her expertise in adjunctive periodontal therapy is grounded in the data, explaining how the prescription trays work and which patient candidates can benefit from them.
Bio:
Dr. Barbara McClatchie is on a mission to enrich the quality of life for every person she meets. Her practice, Complete Health Dentistry of Columbus, employs a team of professionals specializing in general restorative dentistry and uses research-based methods that ensure optimal oral, mouth, and heart health.
In 2011, Dr. McClatchie completed The BaleDoneen Preceptorship certification and continues mentored study today. In this program, she attends monthly scientific updates to learn the latest science to prevent cardiovascular disease from progressing and to actually reverse it through practicing personalized dental medicine. She and her team offer saliva testing to identify the presence of five high-risk bacteria that can increase the chances of cardiovascular disease as well as to determine a person's genetic risks. As an accredited provider of The BaleDoneen Method, she works in partnership with The Heart Attack and Stroke Prevention Center of Central Ohio and supports other dentists to help patients prevent heart attacks and strokes. She is a founding member of The American Academy of Oral Systemic Health, an organization bringing medical and dental professionals together as patient advocates for better patient outcomes.
Bio:
Dr. Eric Goulder, board-certified cardiologist, has been practicing cardiology for more than thirty years. Over this time, Dr. Goulder has practiced what is called "standard of care" cardiology. It is based on guidelines that are developed from medical research to obtain the best outcomes for large populations. While that is fine as far as it goes, he now feels that he wants to treat each patient based on his/her particular situation and genetic makeup. We are all a little different, and while a cookbook recipe works well for large groups, it may not be right for you in particular; you are a group of one.
While Dr. Goulder has always enjoyed practicing invasive and clinical cardiology, he has also had a strong interest in preventive cardiology as well. He has been somewhat frustrated over his years of practice, knowing that there must be more to the story of what causes coronary artery disease beyond the classically described risk factors - hypertension, diabetes, cholesterol, smoking, family history, and sedentary lifestyle. There were always those patients with coronary disease who did not fit the mold of the classic risk factors. After having taken The BaleDoneen Preceptorship, Dr. Goulder has now been exposed to a whole new arena of ways to slow the progression of coronary disease and even prevent its occurrence. It is this exciting new relationship between coronary disease and the many underlying inflammatory processes that are the key to stopping heart disease in its tracks. This is also where the oral systemic approach, the relationship between dentists and medical physicians, becomes so important.
Bio:
Dr. Keith Lewis graduated from the Ohio University with a bachelor of science in education with a dual major in biology and earth science with Honors and inducted into Who's Who in American Colleges. He continued his post graduate education at The Ohio State University, prior to attending Palmer College of Chiropractic. Dr. Lewis graduated from Palmer College of Chiropractic with a Doctor of Chiropractic degree and was the class Salutatorian. He was inducted into Pi Tau Delta, international chiropractic honor society during his senior year at Palmer.
Dr. Lewis taught high school sciences and coached football and wrestling, after graduation from OU, then he pursued a post-graduate curriculum at Ohio State University. The following year he enrolled at Palmer College of Chiropractic. After graduation, Dr. Lewis spent the early part of his career treating patients with musculoscience dysfunction and chronic pain. He also served as the team physician for the US Karate team and treated many other olympic, college and high school athletes.
Dr. Lewis has devoted the last 20 years on a functional medicine approach to health care, treating the root cause of patients' illnesses and not just treating symptoms. Dr. Lewis' initial training in Function Medicine started at the Institute for Functional Medicine. Over the years he has gone on to become a Diplomate of the American Academy of Anti-aging Medicine, a Credentialed Pain Practitioner, and a Certified Functional Medicine practitioner.
In addition to his astonishing medical knowledge, Dr. Lewis is also quite gifted in handling the emotional aspects of healthcare. He has always prioritized listening to the story of each patient that walks through his door and actively involves them in their health care plan that is ultimately developed. With his background in education, he really enjoys educating his patients, so that they feel empowered in making decisions in their health journey.
He has written 3 books, soon to be published, Blueprint for Diabetes, Seven Pillars of Health and Stress Hormones and Health, a prescription for balancing hormones including thyroid, estrogen and adrenal.
Bio:
Michael Poulsen DNP, RN, FNP-C, ACHPN

Dr. Poulsen was born in Racine, WI and a graduate of Wisconsin Lutheran College with Bachelor of Arts degree in Psychology. He obtained his BSN and Doctor of Nursing Practice from Valparaiso University in Indiana. He was certified in Palliative Medicine and Hospice Care through the Hospice and Palliative Care Nursing Association in 2018.

Dr. Poulsen has been working for the last 6 years in Palliative Medicine and Pain Management at St. Joseph Health System in Mishawaka, IN. He has been in healthcare for 25 years over 5 hospital systems and 4 outpatient settings. He is a member of Hospice and Palliative Nursing Association and American Society for Pain Management Nursing. He is currently serving as the Chairman for Pain Management Committee and member of Provision of Care Council at St. Joseph Health System. Dr. Poulsen is also an Associate Adjunct Professor at Valparaiso University School of Nursing.

He currently resides in Granger, IN with his wife Dr. Rachel Poulsen, DDS, three children (Liam, Lily, and Levi) and their dog Wrigley. Dr. Poulsen and his family are joyfully active in their Church. He and his family also enjoy Taekwondo which Dr. and Dr. Poulsen and Liam are 1st degree black belts. Lily and Levi are working hard to reach their goal of being black belts.