Start Implementing a higher quality of Care
in your practice TODAY
Change the way your patients understand the care you provide with this infographic bundle on the mouth-body connections related to cardiovascular disease, diabetes, and the real biofilm.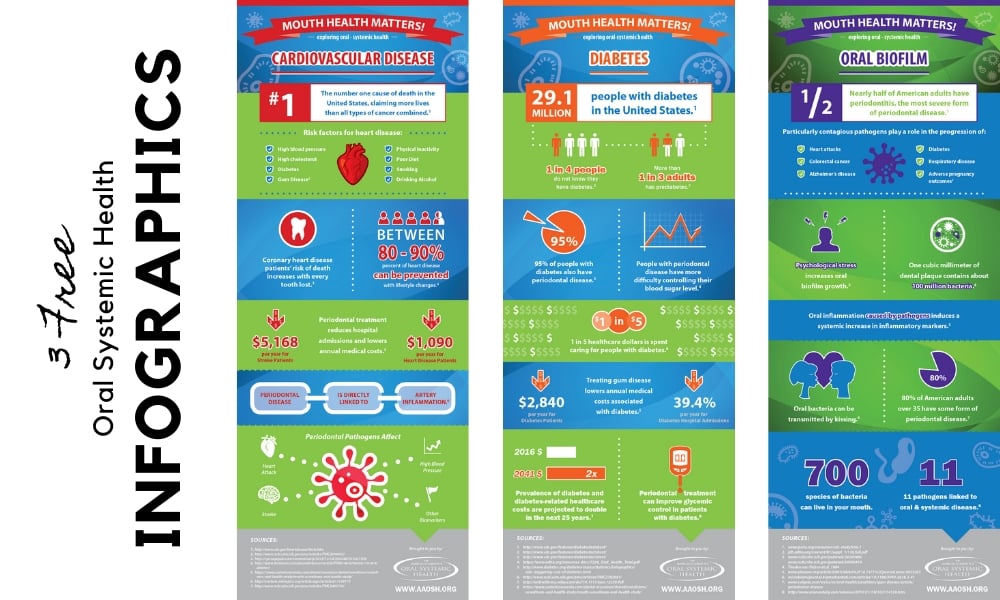 Yes - I want the free infographic bundle!
Patient Education - Easy-to-understand, evidence-based graphics help patients understand the importance their oral health plays on their systemic health. Share with patients in office or print for them to take home!
Three, 2-page infographics on Cardiovascular Disease, Diabetes, and Oral Biofilm. Featuring facts, statistics, and sources.
Office Decor - hang these in your office to promote the importance of the oral-systemic connections!
Did you know oral health and systemic health are related?
80% of American adults over 35 have some form of Gum Disease.
Brain Health
Oral bacteria have been implicated in the development of Alzheimer's disease and dementia.
Heart Disease
People with gum disease are nearly twice as likely to suffer from heart disease.
Reproductive Health
Oral bacteria traveling through the bloodstream have been found to cause stillbirth.
Diabetes
95% of Americans who have diabetes also have periodontal disease.
Sleep-Related
Breathing Disorders
Conditions associated with oral pharyngeal crowding triggers many associated negative health consequences.
Cancers
Bacteria in the mouth have been linked to oral, esophageal, lung, colorectal, pancreatic, and breast cancers.