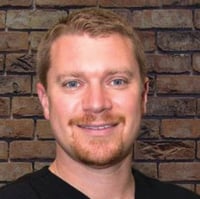 Nick Ritzema, DDS
Treasurer
My name is Dr. Nick Ritzema. I am a West Michigan native, having graduated from Rockford High School, and attended Grand Valley State University.

My continuous dental education and clinical experiences have prepared me to help pioneer complete health and wellness, for all my patients, as well as utilize advanced techniques in modern dentistry. We here at Complete Health Dentistry, strive to treat our patients' complete health. Proper oral health care has the ability to treat and/or prevent whole body diseases. Whether we are preventing cardiovascular disease or dementia, or we are treating an aspect of diabetes or decreasing the risk of a major heart attack or stroke, we treat everyone based on their individual health.

I especially enjoy getting to work with children and their families, setting them up for a lifetime of excellent oral health and overall wellness. A quality dental practice should not be a fearful place, but a place where whole families feel at home. This is possible when patients are treated like family when they walk in and know that they are receiving the best possible care. I am a perfectionist by nature and pride myself with the ideal, artistic, craftsmanship in everything that I do.

When I am not enjoying dentistry and spending time with my patients, I am an avid family man and always an outdoorsman. Kristen and I have three daughters, Maddy, Grace, and Brooklyn, and two sons, Kyle and Reese. We live in the Grand Rapids, MI area.

I enjoy hunting, fishing, camping, and playing golf with my family. Being raised within a very close-knit family, I have always imagined the perfect dental practice as an extension of my family. To me, my team members and patients are my brothers, sisters, nieces, and nephews. Everyone deserves honesty and everyone deserves the highest quality modern medical care available, and that is what I strive to provide everyone who is a part of our dental family.