StellaLife
StellaLife® is an innovative biotech company on a mission to improve people's lives and significantly reduce, or in some cases eliminate, the need for narcotic pain medications, steroids, and antibiotics. Awarded 2019 and 2020 Top Healing Product, the VEGA® Oral Care is formulated to temporarily reduce post-surgical dental pain, accelerate healing, and promote optimum oral health. The clinically proven StellaLife program encompasses a broad spectrum of applications, ranging from recovery to maintenance, and from the treatment of oral inflammatory conditions to pain management. We believe and have proven that better healing can be done more naturally.
"Improve people's lives by accelerating healing, relieving pain and reducing the need for opioids."
Top-Rated by the Dental Advisor for:
Dental Surgeries & Procedures *

Dry Mouth, Canker Sore, Dry Socket...*

Non-Staining Daily Oral Care *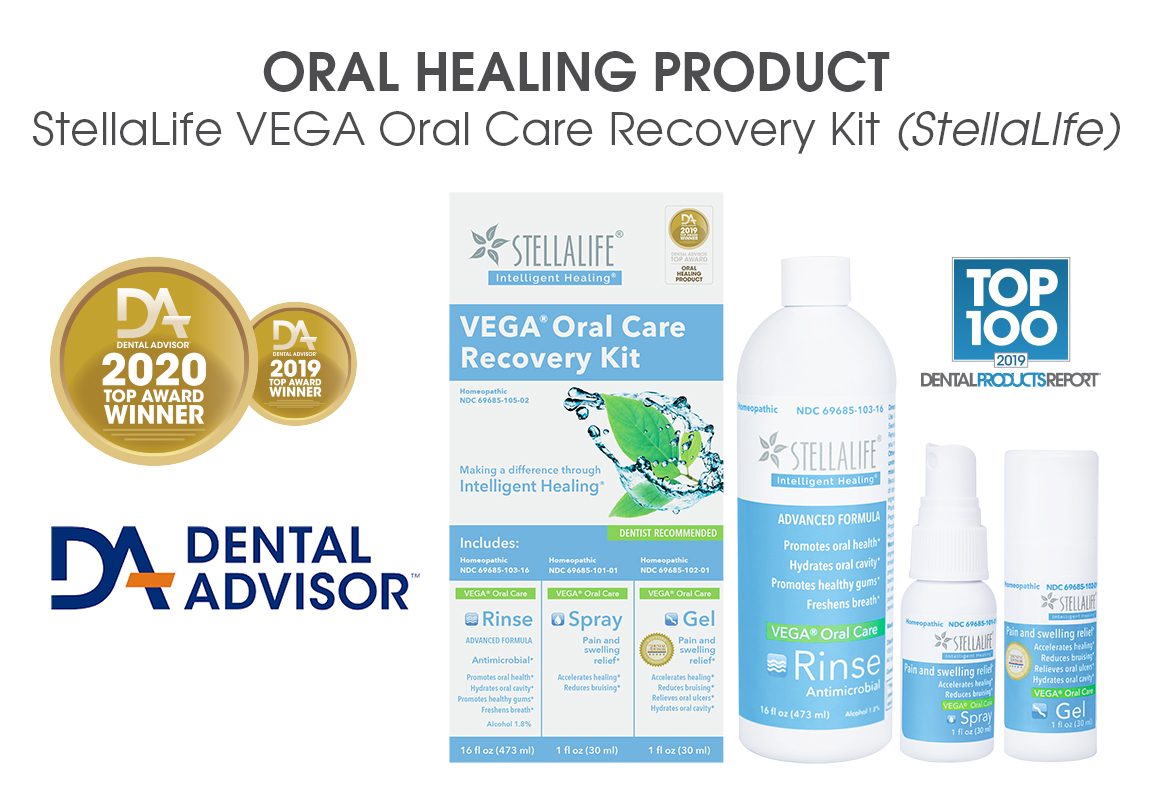 StellaLife® VEGA® Oral Care Recovery Kit
A breakthrough all-natural solution formulated as adjunctive therapy for pre and postsurgical treatment and can significantly reduce the need for narcotic pain medications (opioids) and steroids.* It consists of the antimicrobial rinse, sublingual/systemic (pain-relief) spray, and award-winning topical gel.
AAOSH Clinical Tips
Presented by Susan Maples, DDS
"StellaLife is a company that is all about healing for oral health. Especially for people who are compromised." - Susan Maples, DDS

As part of the AAOSH Clinical Tips Series, Susan Maples, DDS, speaks about how she uses StellaLife in her practice, to care for her patients.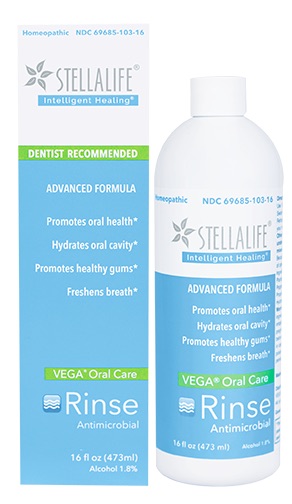 StellaLife® VEGA® Oral Rinse
StellaLife® VEGA® Oral Rinse is a natural, antimicrobial product that has been formulated to hydrate oral cavity, promote healthy gums, maintain oral health and freshen breath. The patent-pending rinse supports healthy healing following oral surgery and periodontal treatment. It is recommended as part of daily oral hygiene due to antimicrobial properties used to kill bacteria that cause tooth decay and periodontal disease.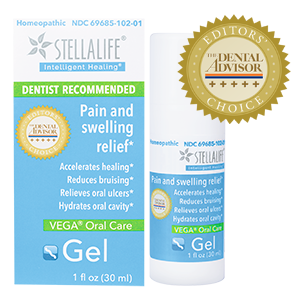 StellaLife® VEGA® Care Gel
StellaLife® VEGA® Care Gel is a revolutionary new technology that has been clinically proven to accelerate healing, relieve pain and reduce swelling in dental patients' after both surgical and nonsurgical procedures. Doctors have found it effective in the management of dry sockets, aphthous ulcers (canker sores), mucositis, cold sores, dry mouth, sores associated with dentures, and following dental surgical and nonsurgical procedures. Professional strength.